Interior Design in Paris – Herold Design
20 years of success !
Created in Paris in 1999, Herold Design has completed 220 projects for an international clientele and has become a benchmark in interior architecture and renovation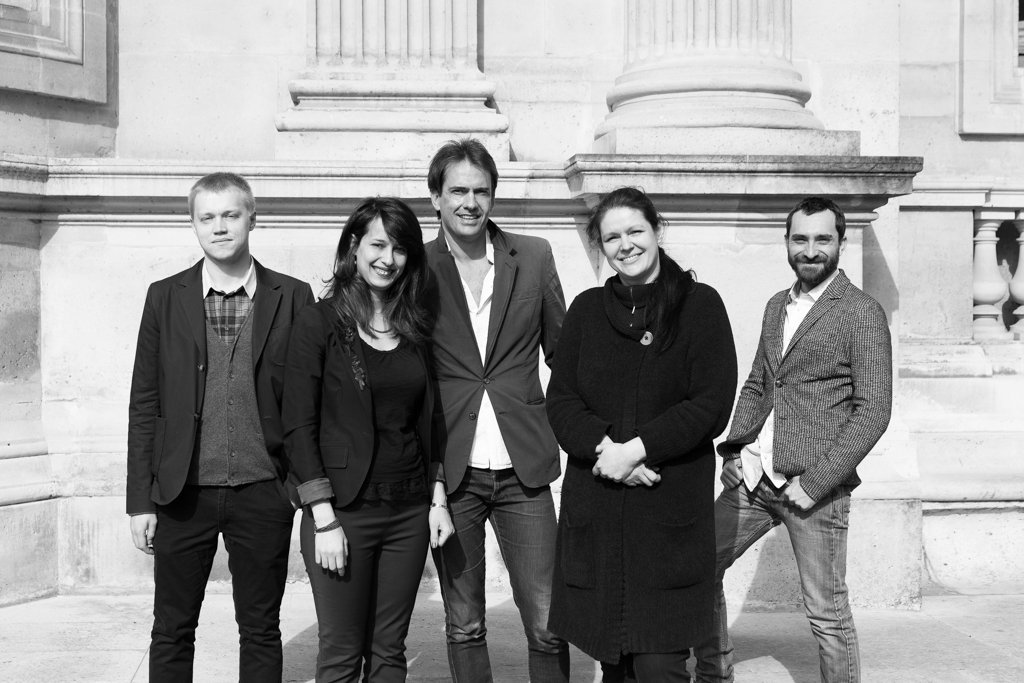 PRESENTATION
Interior architecture and renovation agency based in Paris, our company manages all your work, from design to completion.
ORGANIZATION
-4 licensed interior architects
-4 teams for structural and finishing work
-1 specialist in technical solutions and custom integrated solutions and storage
-1 bookkeeper and project administrator
GUARANTEE
Civil and decennial guarantee of works I 10 years I General contracting
COMPANY ETHICS
Specialists in custom-designed living spaces, we focus on optimizing space, volume and built-in solutions.
CREED
Minimalism, nobility of materials, confort, homogeneity.
REQUIREMENTS
Circulations, axes, symmetry and clean lines.
WHAT WE DO BEST
In-depth architectural project studies (plans, projected plans, side-cuts/elevations, descriptions, electrical plans, demolition plans, final 3D perspectives for optimal interior renovation.
Initial budget estimation
Final interior architectural plans
Descriptions of each building trade's intervention (demolition, masonry, electricity, plumbing, marble-work, cabinetry, painting etc)
Detailed final estimate.
Coordination of the building tradesmen
Interior decoration: selection of paint shades, marble and stonework, parquet, polished concrete, resins, cabinetwork, facades, lighting, mirrors, glasswork, faucets, baths and kitchens, wall preparations and fabrics.
Finalised interior environment boards with catalogue selections and samples.
Implementing and monitoring site by us to the final delivery
SERVICE DELIVERY LEVELS
– Standard : Designing and producing our Standard level of renovation
– Customized : Designing and producing customized interiors
– High-end : Designing and producing customized interiors with high-end finishes
ACTIVE
220 building sites and 400 capital study projects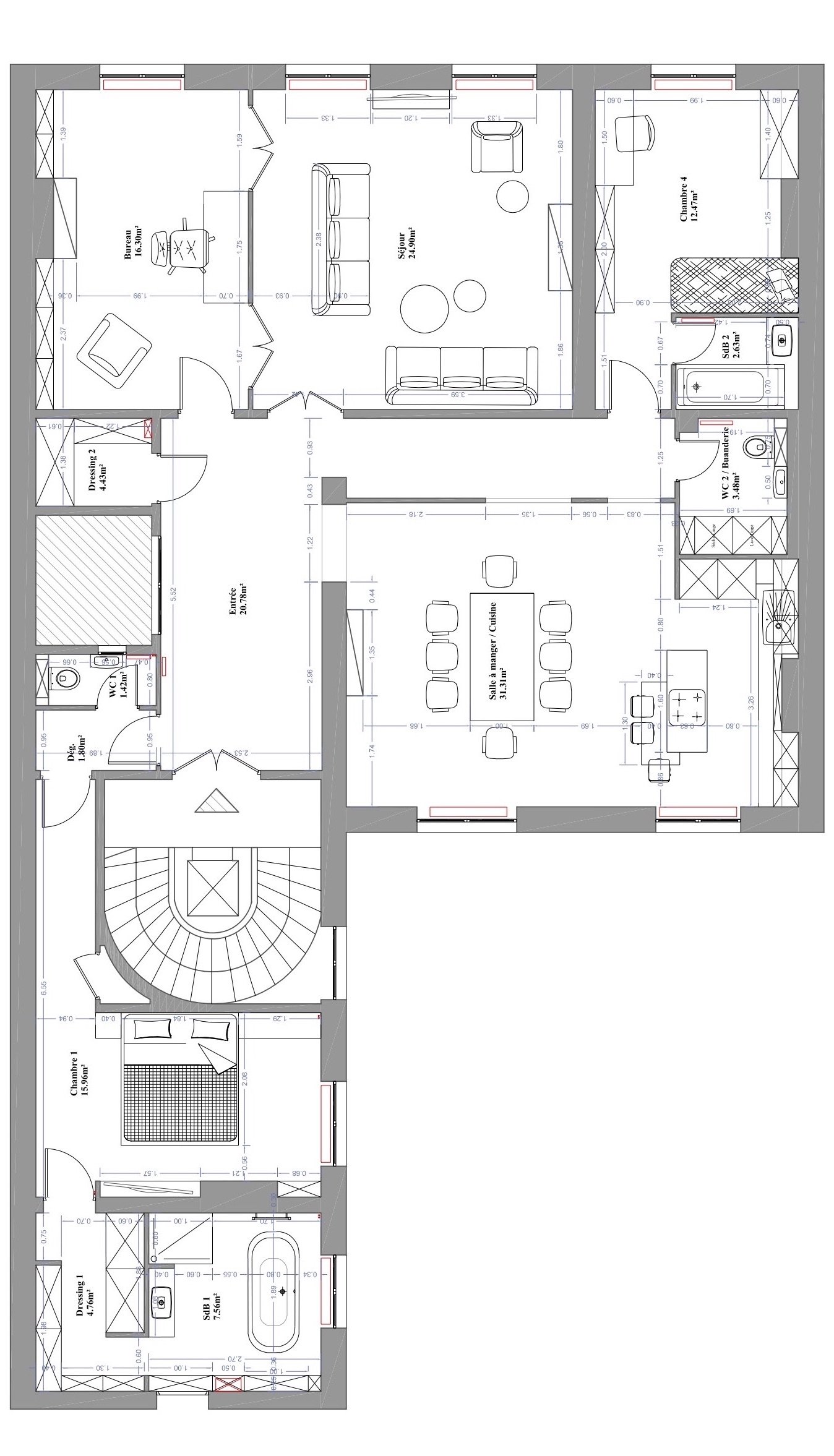 |  THROUGOUT THE EXECUTED WORK
PLANS AND TECHNICAL DRAWINGS
-masonry
-plumbing
-electricity
-layout
-heating
-toilet installation
-kitchens
-cabinetry and dressing rooms
-renovation of floorings and wall coverings
-plumbing and bathroom installations
-mirrors
-finishings and fastenings
-trimmings
-masonry and custom linings
-Fittings and mixing faucets
-tiles, mosaics, glass tiles, 'briquettes' and natural stone
-PC and lighting/electrical switches
-baths, showers, faucets and accessories
-kitchens and countertops
-cabinetry and custom parquet work
-dressing rooms
-floorings, poured concrete, resins and improved cement
-wall coverings
-trimmings
-mirrors
-carpets
-finishing accessories
-furnishings and rugs
OTHER INTERNAL AND EXTERNAL SERVICES
-alarm systems
-interphone systems
-air circulation systems
-wall surfaces and plastery
-windows
-locks
-rolling blinds
-shutters
-decorative painting
-restoration
-fireplaces
-tapestries
-leathers
External interventions : Engineering and architecture DPLG/HMONP
– Preliminary technical studies, assured by our partners – engineering firms – for the purpose of certification of use / surveys and recommendations (removal of partitions, load-bearing or semi-load-bearing walls)
– DPLG/HMONP external missions, assured by our DPLG/HMONP architect partners (permits, DPs, extensions, and any other mission specific to DPLG/HMONP)
DIRECTION: Lionel Barde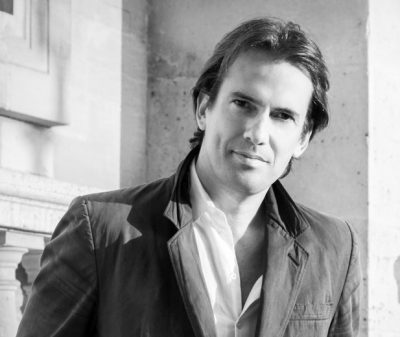 Let your home improve your life
Nowadays in the intercity, many prefer smaller dwellings given the price per square meter and the need to live in urban areas. Our interior designer in Paris must answer this problem.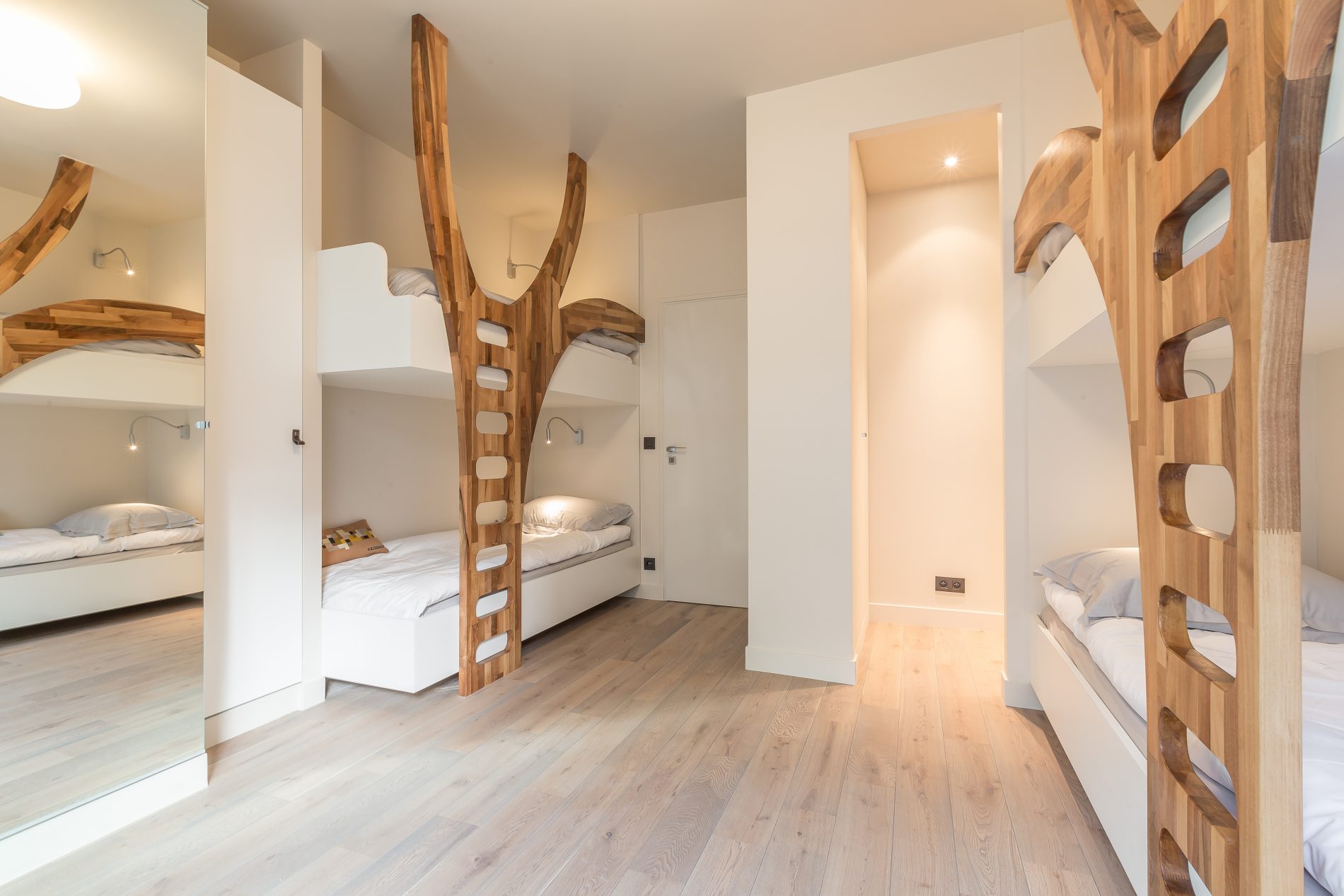 The big question is how to give these small spaces the sensation of greatness and comfort that one could only find in large, luxurious apartments, or even custom designed homes.
This is our goal. It is precisely when the available space is scarce that imagination and creativity are required, allowing one to forget the smallness of the place. However, the solutions are sometimes variable. Quite often, they are inspired by daring ideas applied in commercial spaces and then transposed on the individual habitat.
And where interior architectural interventions reach their limit, the art and science of interior design take over, with synergistic solutions encompassing lighting and flooring as well as special effects of quality wallpapers, high quality paints and ceiling decorations.
By mixing lighting and color, we positively affect the potential habitants overall perception of dimensions and space (e.g., his way of life).
We can custom-design spaces to honor special requests and exceed expectations: including a very rare building material, creating a sculpture with special significance, or adding a simple "touch of class"— all in the spirit of combining quality with aesthetics to increase cost/ratio value of urban spaces under our management.
Our renovation philosophy is not just about visual effects. We go further to redesign living spaces by merging or dividing rooms to maximize the positive living experience of a small space.We can also make your space more peaceful and enjoyable by creating and installing customized home electronics solutions for entertainment and leisure.
Every living space should have the basics: a sleeping space, a dining area, a living area and a bathroom. Herold Design goes beyond the basics to create a unique experience for potential habitants. No two homes are identical. Our team of experts can help you make the unique character of your living space become a reality.
Mr Erwan Rumen/ Humanitarian coordinator
"Lionel, Jolanta and the team were fantastic. My small apartment had to be completely renovated and the result was exceptional. The many difficulties involved in this type of small space were overcome thanks to their skill, their very sure taste and their great professionalism. I'm delighted to have had occasion to request their services."
Mr Misha Missakian / Chartered Accountant
"A very serious approach to the complete renovation of my property. I particularly appreciated their attention to detail, immense professionalism, ability to listen, availability, responsiveness, flexibility and perfect budget management. I'll call on them again for any future project."
Ursula er Dieter Dürr / Company directors
"Our renovation project in the heart of Paris was carried out by Herold Design with exceptional professionalism, creativity and attention to detail. Lionel and his team draw on a wealth of valuable experience and provide extraordinary service. We always felt fully informed and involved in planning, execution and costs. Thanks to Hérold Design, our apartment has become a jewel – we love our home in Paris! We thoroughly enjoyed our collaboration with Herold Design, and a big thank you to Lionel and his team!"
Monsieur Christophe Clave / CEO of an investment company
"A few years ago, we completely renovated our family apartment located in the 6th arrondissement of Paris with the Herold Design team. Lionel Barde and his team were very attentive from the first discussions and was able to offer us a complete and detailed project.We were in constant contact throughout the realization of the work which was completed in accordance with the specifications, plans and sketches, on time and within the budget.Several years after the end of the work, we have maintained cordial relations with Lionel and his team who are always available and competent to intervene with us if necessary. For us, this constitutes a very good collaboration."
Monsieur Gérard Millet / Company president
"Undertaking the complete renovation of a large apartment in Paris while living in Hong Kong during the Covid epidemic was a challenge. We were lucky to find Herold Design to meet this challenge with flying colors. Lionel Barde and his team respected our general views of what we wanted to achieve and, through long distance dialogue, oriented our choices particularly with regards to color scheme and the choice of materials. The execution was excellent down to the most minute detail. We are absolutely delighted with the result : an elegant and modern environment while preserving the Art Deco original architecture."
Monsieur Frédéric BOULTE / Lawyer in Paris
"We entrusted HEROLD DESIGN last year with the complete renovation of our duplex in Boulogne (living room, dining room, floor, bathroom, bedroom). Knowing Lionel Barde well, I had had time to appreciate other past achievements. The result is sublime and we are fully delighted. We appreciated the preparation phase, the attentive listening that the team has always shown, the personalized appointments with each supplier to choose together the materials and the appropriate furniture, congratulations and thank you Lionel and Jolanta."
Mrs. Géraldine BEIGBEDER  / Writer
"Two years ago, their interior architects have intervened at my home, in Saint-Germain-des-Prés, for a small makeover of apartment, that I found quite original. Otherwise, i must admit that I was very impressed by their organization »
Mr. Juan SOLANAS / Film director
"I have called on Herold Design for a very challenging project involving the revitalization of an increasingly depreciating asset. Three weeks following their intervention, I had found myself choosing among several highly qualified bidders. With a newly added value to my revived apartment unit, I was able to negotiate under more profitable conditions. Indeed, Herold Design kept their promise."
Monsieur Franck COLLET / Général Manager, USA
«"I wanted to revive this apartment that I inherited from my grandparents and in which have passed memorable moments as a child. Living abroad, I couldn't manage to administer such a project. Lionel and his team of interior architects knew how to understand my demands and to advise me in a simple, yet attentive way. We have fixed a budget, a result and a deadline. I didn't have to worry about anything. When I received the keys of the apartment, I was deeply moved when I saw that, even though the apartment had changed a lot, it had kept its spirit and authenticity. I can only recognize the efficiency, the professionalism and the amiability of the team. A big "Thank you!"»
Madame Nathalie Dubois / Expatriate 
"I recommend very warmly Lionel and his team. They have reunited and transformed our two apartments with a great taste .They used beautiful materials respecting our budget and deadline and managed the challenge of making from a classic "Haussmanian" Parisian flat a modern and warmly place. The team is efficient and friendly. Lionel was available and answered all our questions throughout the duration of the work. You can trust them. " 
Luc and Julie VAN SHIL / Company presidents
«A reliable, responsive and well organized team. Solid and creative. A real eye for detail.  Responsive at any time. »
Monsieur Antoine REMILLEUX  / Producer
«Their interior architects intervened at my home, in Montmartre, for a complete renovation of the property. I was completely seduced by the result! The change was radical! »
Mr. Joël Cometti / Manager
"For our little parisian space, we acquired a little space irreplaceable. The Herold Design team has made a jewel! Not being there and little available to supervise the work we enjoyed their competence, sound advice, rigor and especially exchanges both professional and user-friendly that we have had throughout the site, all in a relationship of trust. one can only congratulate these professionals and say a big bravo! " 
 Mrs. Christine Chevalier / trainer
"I had inherited an old-fashioned bathroom which necessitated a total rebuilding. Space is minimalist, the choice of an architect was required.I chose it instinctively from its site and I have not been disappointed.Mr Lionel Barde is a professional who has managed to find a subtle balance between my requirements and its own artistic convictions. The result is stunning! I also enjoyed all the professionals of his team: competence, friendliness and cleanliness. I would not hesitate to recommend »
Monsieur et Madame BOISSONNADE /Retired
«In terms of decoration, a great creativity and a perfect taking into account of the needs and demands of the customer via a constant and open dialogue throughout the site! In technical matters, a team of competent interior architects, motivated and on time!»
Mr & Ms Bertaud / Doctors
« We enlisted Herold Design's help in the transformation of our studio for rent purposes. We are very satisfied in the result as well as in the respected deadline. »
Mr. Yann GUICHARD / Professional Diver
"My professional activities keep me mainly on the sea or abroad. I own several appartments Paris ; they have been exclusively renovated, maintained, and managed by Herold Design . My relationship with Herold Design e is built on mutual trust." 
M. Ghislaines DARVES  / Coach
"I gave all the responsability to Mr. Lionel Barde to take care of all business regarding to my Parisian apartments. I was highly impressed by the professionalism and attention readily and efficiently paid to my needs."
Mr. Nicolas HAWTREY / Comedian
"My satisfaction with the level of customer care as well as the timely completion of a "job-well-done" cannot be overstated. I have particularly pleased with Herold Design ability to pay attention to details, while respecting projects' deadline."
Mr. Hugo HABERT / Engineer
"The availability and personal attention granted to me left no doubt with respect to the level of professionalism one should expect from a serious home improvement expert. My experience with Herold Design was a positive one. I must admit : the price was just right !"
Mrs. Julia CLOAD / Pianist
" I appreciate the promptness in execution magically blended with the family atmosphere at Herold Design : always available, I can finally rely on and reach a professional service provider. In my honest opinion, Herold Design remains an exception to the rule." 
Mr. Gerard BERTACCO / Retired DASSAULT Aviation
"Ever since Herold Design has been handling my assets management, I must admit that things have not been the same: impeccable service! Impeccable!"