Studio Ben Allen inserts pale plywood children's bedroom into Barbican flat.
London architecture firm Studio Ben Allen has built a plywood structure inside a flat in London's brutalist Barbican Estate to create a bedroom for two children, featuring archways, steps and a fold-down desk.
The resident of the one-storey flat tasked the local architects to overhaul the bedroom for his two children who come and stay at weekends. As well as providing somewhere for them to sleep, he wanted the studio to include a place for them to complete their homework and play.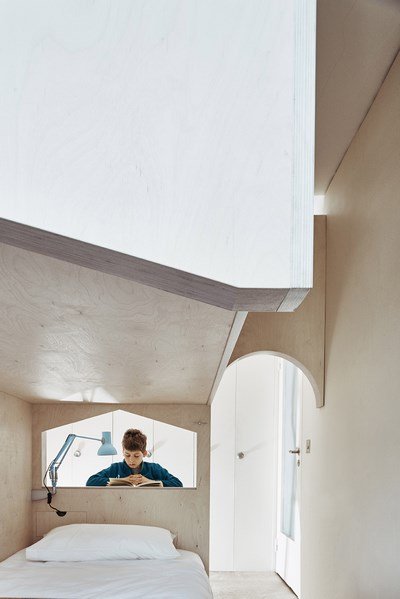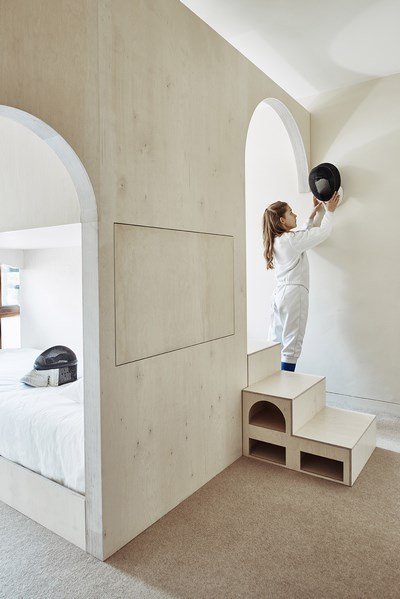 "Inspired by the painting St Jerome in His Study by Antonello da Messina, our departure point was to create an installation that is as much a small piece of architecture as it is a piece of furniture," said the studio.
Other details are based on the apartment's setting within the Defoe House of the Barbican Estate – one of the largest examples of the Brutalist style. Arches feature throughout to mimic the barrel-vaulted shape of the some of the terrace apartments in the 1950s housing estate.
Two arched doorways provide separate entrances into the rooms like "miniature houses", each conceived differently to adhere to the ages of the children.
The study desk occupies the main space of the eldest child, where a set of adjoining steps is punctured with arched openings. More shelving is placed in the wall of the unit that the desk faces. She can clamber up the steps and shelves to access her bed on a higher level, where an opening faces the window at one end so she can peek outside.
Her younger sibling's bed is in a cosy nook placed underneath, like the arrangement of a bunkbed. A desk is set into the exterior, near to the doorway into the room and the living areas of the flat. The desk folds down to reveal a house-shaped window into the bedroom. A matching window is placed on the other side.
The architects used digital fabrication to build the giant furniture unit out of plywood, following a recent surge of interest in the material, which is currently the subject of an exhibition at London's V&A museum.
The bedroom unit was modelled in 3D to establish the different pieces needed to build it, which were then sent to the CNC machine and cut.
For the full article please click here
Project credits:
Design: Studio Ben Allen
Project team: Ben Allen, Omar Ghazal
Fabricators: Top Notch Joinery
Photography is by Michael Sinclair.